Water sports are incredibly popular among tourists, and marine sports as they're known locally contribute significantly to the local economy. Many locals have a vast knowledge and skill in their hobbies, and have turned them into a career to entertain tourists.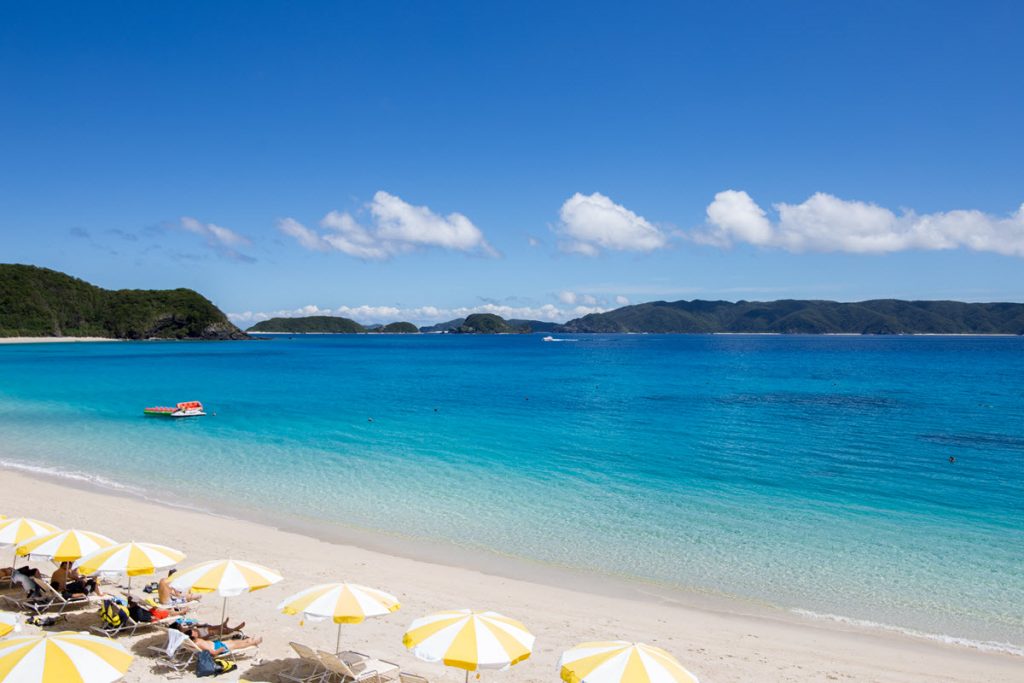 While all activities in water are great fun, always listen to safety briefings and guidance from your guide.
SCUBA Diving
SCUBA is short for self contained underwater breathing apparatus, and refers to the equipment that allows divers to breathe underwater. While we all breathe twenty four hours a day throughout our lives, using SCUBA kit takes a bit of getting used to.
With that said though, SCUBA diving is a truly incredible experience, creative lifelong unique memories of your time in the waters of Zamami!
With the amazing blue seas around the local islands, you can get really good visibility, which gives you the best chance of observing the magnificent sea life without needing to get too close and scaring them away. You can expect to see tropical fish really close up, and the island boasts sections of coral they dart in and out from.
As we're the Zamari English Guide, it's important that we point out that the operators of many dive clubs on the island have limited English. As SCUBA can be dangerous without detailed instruction, that means many tourists struggle to find somewhere to enroll in organized SCUBA activities.
The good news is affordable scuba lessons for beginners are available on Zamami.
We've heard good things about the Zamamia International guesthouse connecting people with a local diver called Paul, so if you're struggling, give them a try.
Sea Kayaking
Kayaking on the open sea is a remarkable contrast to even the most experience river kayaker. Local islands are accessible and relatively safe to travel around, and in some cases, between.
Weather is an important consideration, so follow local advice and stay close to shore if advised to do so. Other than that, the Kerama islands are a great tip to venture out in your Kayak!
You'll find several Kayak centers around the immediate islands, and some even offer kayak camping – setting out one day and camping overnight before returning to base.
Snorkeling On Zamami Islands
As we've mentioned before, the islands might be small, but they've got lots of opportunity to explore. That's not limited to land, though, snorkeling off the beaches is great too!
Furuzamami Beach
A very tourist friendly destination, put if you pick a quiet day, the sea life might come closer to shore. High tide or low tide is fine, assuming you're a reasonable swimmer and as the currents allow. As we mentioned in the SCUBA notes, you'll find coral and tropical fish here on a good day.
Ama Beach
The Ama beach won't give you the same coral and brightly colored fish experience, but you're in with a chance to see a turtle or two.
Avoid high tide on this location, and low tide can be very shallow, so pick your moment carefully.
Yuhina Beach
Yuhina boasts an impressive reef, however its a bit of a trek out to get there. If you're not a strong swimmer with good stamina, this one won't be for you, but the fact that you're farther out from the crowd means you can see a huge array of sea life on your swim. Some have even reported to have seen Nemo on their way – just keep swimming…
Chishi Beach
Here's another reasonable location, with a reef to traverse to watch out for some exciting species. This beach is a little more hit and miss based on our experience, but you never know when and where the most amazing aquatic sights will be found!