Welcome!
You're looking at our English Guide to Zamami – designed for visitors to the beautiful island of Zamami and the neighboring Aka and Geruma islands of Okinawa in Japan.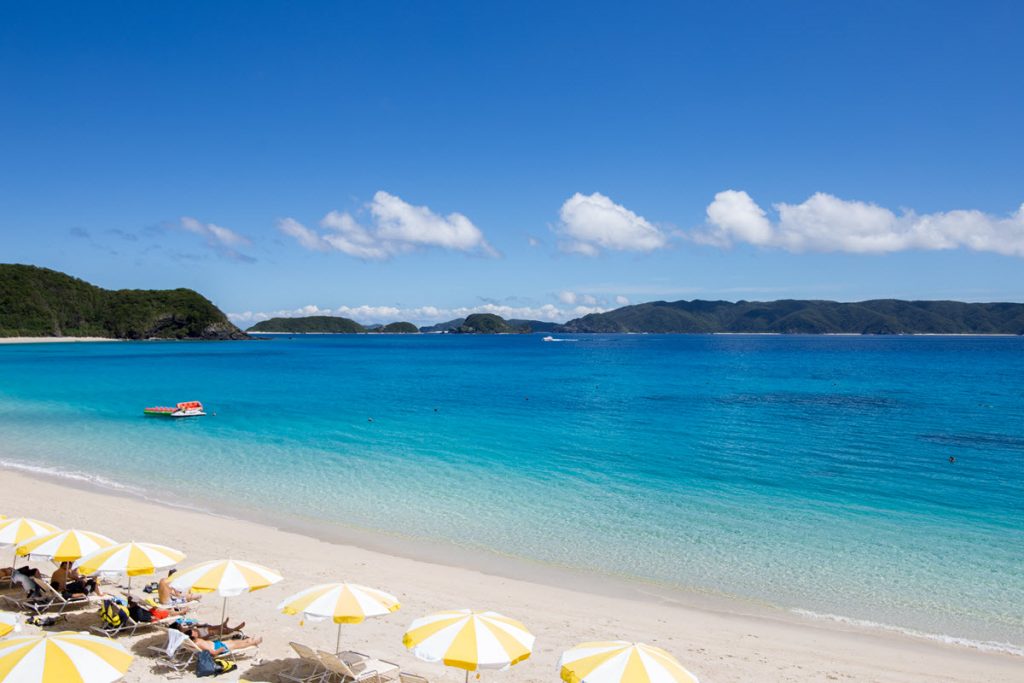 Famed for a remote getaway, Zamami is far enough from civilization to get away, yet close enough to be accessible for your visit. Our friendly population of locals love their relaxed lifestyle and can't wait to welcome you for a stay that you'll never forget.
For a glimpse and small sample of the incredible sights to see on the island, here's some incredible drone footage:
You can reach us most simply by the ferry service from Naha's Tomari Port. There are two main services available, and your journey can be as fast as a mere fifty minutes courtesy of the high-speed ferry named Queen Zamami or a little longer at 70 minutes if you choose a service that calls at Aka en route.
For those looking for a more leisurely way to cross the water, why not take the slower ferry option, imaginatively titled the Ferry Zamami? It's a journey time of up to two hours depending on weather and sea conditions, and is also suitable for transporting larger amounts of belongings. It's also used for cargo supplies to Zamami to bring goods to the locals!
Zamami Island
The island itself is located approximately 500km south west of the Japanese coast, across the East China sea. It's a part of a cluster of islands, immediately comprising Kerama, Kuba and Yakabi Islands alongside Zamami. The main way to access the island is via the island of Okinawa's Naha port, approximately 35km away as the crow flies. Additionally, Kerama island has a small airport for times when weather is inclement and seas around the islands are rough, allowing access to any part of the Kerama islands group.
In terms of people, Zamami Island is home to a population of over 600 residents, spread across the main Zamami town, along with the less populous Asa and Ama villages.
Facilities on the island are impressive considering the low population, including a police presence and education for younger children until they reach the age for high school for which they travel to Naha for lessons.
Beaches
Tourism is a big focus on Zamami island, so it's no surprise that many travel to visit the renowned Furuzamami Beach. It was recognized in the 2016 run down of best beaches in Japan, gaining global coverage when announced by TripAdvisor. Less well known but just as important to visit is the Ama Beach, so make a note to make time during your visit.
As you would expect from any island attracting tourists, water sports and activities at sea are very popular, especially in the warmer months. In particular, Zamami offers visitors memorable whale watching tours, including the chance of seeing humpback whales, particularly during the winter months. Additional activities to watch out for are diving – especially organized scuba dive trips.
Tourist Information Office
The information desk at Zamami's Tourist Information Office is available for everyone to learn what they can do in the local area, from water sports and marine activities to visiting our famous observation decks that offer views of the island. Whether you need maps to get around, details of operating hours and opening times for attractions or just get some ideas of where to eat, the friendly staff are at your disposal.
There's even information available if you're looking to splash the cash and go shopping. We may be a small island, but we've got some amazing souvenirs and gifts on sale for visitors to take home for loved ones. For more specialized purchases, ask the staff about the shopping opportunities across the island.
If you're staying on the island, be sure to call in to get the guides you need to help understand rules around camping, along with complying with local protocol. Zamami island is a relaxed and friendly place, but there are certain rules you'll need to be aware of, especially if you're staying for a few days.
Find the tourist office situated at the port on arrival, accessible by the ramp.
Internet Access
We've got great connections to the web available for visitors, with free wifi covering most of the main town and port on arrival, with connectivity also available around the island.
Food & Drink
Unlike the Japanese mainland, life is much more relaxed under island life. You won't find the conbinis (convenience stores) here, but there are plenty of markets available to offer the products that tourists would expect to find in supermarkets. Local traders are more than happy to help you buy what you need, and point you in the right direction if there's anything you need that they don't offer.
105 Store
A great place to start on arrival is the locally famous 105 store. It's the biggest shop with the widest variety of produce. You'll be able to get your initial supplies in one go, while you work out what to do with the rest of your time around Zamami village on the island.
Opening hours vary, but you'll typically find the store open daily, including late hours during tourist season. Visit the store near the river on main street.
Getting Around: Island Transport
Getting around the island is simple – it's quite a small place! Measuring a little over 3km end to end, you might choose to walk. However not everyone has them mobility to travel on foot, so there's a couple of options to choose from.
Tourists are often used to hailing a cab or calling a taxi to get around on holiday, but that's not a realistic option on Zamami.
Bicycles
Hire a bike to travel around the island on two wheels is great for exercise and fast when the distances aren't huge to get around. Rates are very reasonable for daily hire, and it's easy to arrange – just ask at the port.
Buses
Buses are mainly used to transport arrivals to their accommodation, but there's also a route running to the beach and back several times a day from the port. Fares are very reasonable – at the time of writing a few hundred Yen.
Police & Crime
Crime is almost non existent on the island, so the chances of needed help are at most slim. However, if you do need help for any reason from law enforcement, there is a police officer available in emergencies. To make contact, a call button is available all day and night every day on the main road at the port – ask to be pointed towards the police box.
Medical Help
Minor assistance with medical problems is provided on the island by a doctor in their dedicated clinic. It's a service provided primarily to residents, however is also accessible to visitors if required.
Hospital
There is no hospital on the island, however urgent hospital treatment can be arranged, including emergency helicopter evacuations in the most serious cases via the medivac service.
Post Office Services
Finally, the Zamami island post office allows you to send mail abroad, and offers other services including an ATM. It's available during the daytime, between at least 09:00 and 17:00.