Here are some of the more common questions asked about Zamai Island, mainly by visitors looking to explore our wonderful environment.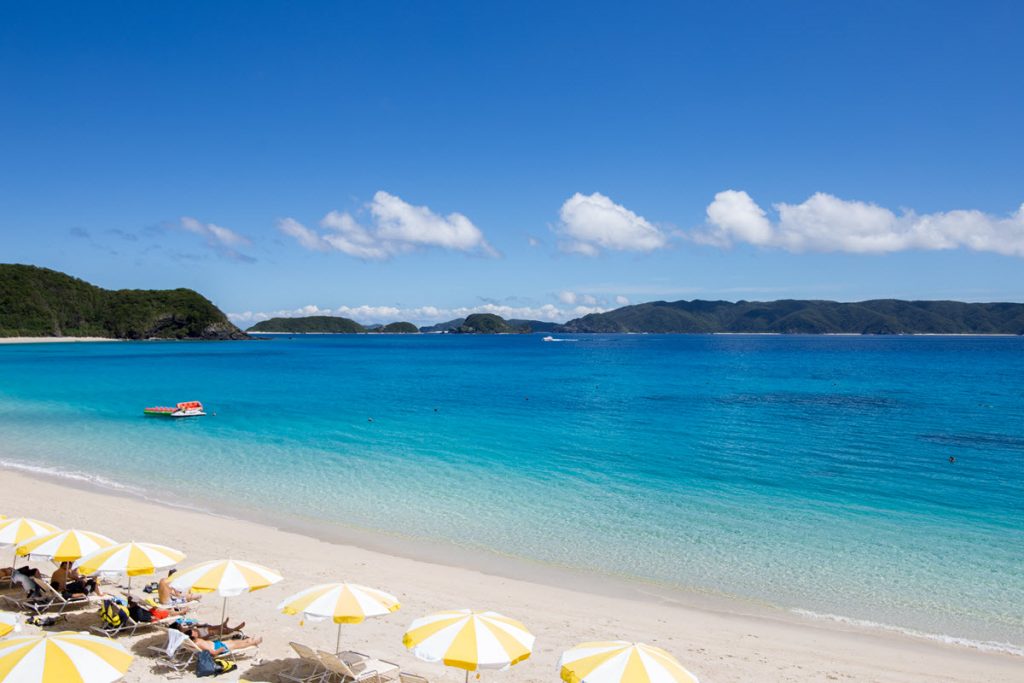 How Do I Get To Zamami Island?
Zamami Island is located in the Kerama Islands, which are part of Okinawa Prefecture in Japan. The island can be reached by ferry from the port of Tomari in Naha City. There are several ferry companies that operate regular services to the island, and the journey takes around 1 hour.
We've got a page all about the Zamami Ferry services here.
What Is There To Do On Zamami Island?
Zamami Island offers a variety of activities for visitors, including swimming in stunning, calm sea water and sunbathing on its beautiful beaches, snorkeling and diving in the clear waters, and exploring the island's natural beauty through hiking and nature walks. Visitors can also rent bicycles to explore the island, or take guided tours to learn more about the island's culture and history.
While the island is well known for its marine sports, there's much more to do too on land. Have a read through our website to learn more.
Is There A Place To Stay On Zamami Island?
Yes, there are various accommodation options available on Zamami Island, including traditional Japanese guesthouses (minpaku), guesthouses, and resorts. Some places also offer camping sites.
We've got more detail on Zamami accommodation here.
What Is The Best Time To Visit Zamami Island?
The best time to visit Zamami Island depends on what activities you want to do and your preference for weather. Summer (June to August) is the peak season for swimming and sunbathing, but it can also be hot and humid. Spring and fall are pleasant, with mild temperatures and less crowds. Winter is less crowded and the island is quieter, but for most visitors the sea is too cold for swimming.
For more detail about the Zamami climate and current forecast, see our weather page.
Are There Beaches On Zamami Island?
Yes, there are several beaches on Zamami Island, including the popular Furuzamami Beach and further afield from the island the Aharen Beach. These resorts offer clear waters and white sandy shores, and are popular spots for swimming, sunbathing, and snorkeling.
For details of Zamami's selection of beaches, see here.
Can I Go Snorkeling Or Diving On Zamami Island?
Yes, Zamami Island is a popular destination for snorkeling and diving. The island is surrounded by coral reefs and clear waters, providing a diverse range of marine life to see. There are several dive shops and snorkeling tour operators on the island that can provide equipment and guidance.
Find details of how to learn to scuba dive on Zamami here, or more general information about aqua sports available here.
How Long Should I Plan To Stay On Zamami Island?
The length of your stay on Zamami Island depends on your preferences and the activities you plan to do. If you just want to relax and enjoy the beaches, a 2-3 day stay may be sufficient. But if you want to explore the island more and do activities like diving or hiking, you may want to plan for a longer stay of 4-5 days or more.
Having a good look around our website at the Zamami English Guide will give you an idea of what you'd like to see and do during your visit.
Is There Any Food Or Drink Service On The Island?
Yes, there are several restaurants, cafes, and convenience stores on Zamami Island that offer a variety of food and drink options. There are also some places that serves local specialties like Ryukyu-style dishes.
We've got a more detailed section on where to buy food on the homepage here.
Are There Any Hiking Trails On The Island?
Yes, there are several hiking trails on Zamami Island that offer breathtaking views of the island's natural beauty. Be sure to visit the observation decks around the Kerama islands in order to take in the unique views and get perspective on the hikes available to you.
Is There Any Public Transportation On The Island?
There are no trains or buses on Zamami Island. The island can be explored by foot, bicycle or by renting a car or scooter. Some places also offer rental bicycles.
See our section here for more detail.
Are There Any Festivals Or Events Around Zamami Island?
Yes, there are several festivals and events held near to and accessible from Zamami Island throughout the year, including the Aharen Beach Festival in August and the Aka Geruma Festival in September. These festivals typically feature traditional music and dance performances, local food and drink, and other activities.
Can I Bring My Pet To Zamami Island?
Some accommodations on Zamami Island may allow pets, but it's best to check with them in advance. It's also important to note that there may be restrictions on where pets can go on the island, such as on certain beaches or trails.
Of course, international travellers may be subject to additional regulations, especially relating to quarantine. Check the US embassy in Japan's guidance here.
Are There Any Cultural Or Historical Sites On Zamami Island?
Yes, there are several cultural and historical sites on Zamami Island, including the Zamami Village Office, which offers insight into the island's history and culture, and information about nearby islands and mainland attractions such as Okinawa's Tamaudun Mausoleum, which is the final resting place of the Ryukyu Kingdom's royal family.
What Is The Weather Like On Zamami Island?
The weather on Zamami Island varies depending on the season, but it generally has a subtropical climate. Summer temperatures can reach up to 30 degrees Celsius, while winter temperatures are around 15 degrees Celsius. The island also gets a lot of sunshine throughout the year and rainfall is very seasonal.
Our page on Zamami weather can be found here.
Can I Rent A Bike Or Car On Zamami Island?
As we mentioned earlier relating to public transport being very limited on local islands, bikes are the main way to travel! Most people are able to manage to get around the small island on two wheels, but there are also cars available too.
Yes, there are several places on Zamami Island where you can rent bicycles and cars. Renting a bicycle is a great way to explore the island and get around.
Is There A Marine Park Or Aquarium On Zamami Island?
There is no marine park or aquarium on Zamami Island, but the island's clear waters and coral reefs provide a natural marine habitat for a wide variety of marine life. Visitors can explore the island's marine life through snorkeling and diving.
To put it another way, the island is one large marine park and aquarium!
Can I Go Fishing On Zamami Island?
Yes, fishing is a popular activity on Zamami Island, and there are several spots where visitors can catch a variety of fish. Visitors can also hire a fishing boat or take part in organized activities with a guide.
Are There Any Tours Or Guided Activities On Zamami Island?
Yes, there are several tour operators on Zamami Island that offer a variety of guided activities, including snorkeling and diving tours, island-hopping tours, and cultural and historical tours.
Get more information about current availability on arrival at the tourist information point.
Are There Any Restrictions On Swimming Or Water Activities On Zamami Island?
There may be some restrictions on swimming or water activities on Zamami Island, particularly in areas with strong currents or during certain seasons. Visitors should always check with local authorities or tour operators before engaging in any water activities.
In particular, safety assessments are regularly reviewed for marine sport activities on the island.
Can I Use My Cell Phone Or Internet On Zamami Island?
Cell phone and internet coverage can be spotty and occasionally non existent on Zamami Island. It's recommended to check with your service provider for more information on coverage and roaming charges. Most providers have coverage checkers available online.
As a good alternative, some accommodations and cafes also offer Wi-Fi access for their guests. Public attractions may also have Wi-Fi available for your use.